2 Create a Website Courses
I am a Udemy instructor and published several different video courses that will help you learn. Just click the course that interests you below.
Make Passive Income Online With an Affiliate Marketing Website
This is my most complete course on website creation and making money online. Even though the course focuses on helping you earn commissions for recommending other peoples products from your site, most of the principles will help you make money from any kind of website because I teach you how to build yourself up as an authority online.
Make Money With a Virtual Shop - Just Add Your Image and Earn!
What a convenient way to monetize your website or social media following! You simply create the image, upload it to your free store, choose what product you want to add it to, set your commission and earn!
If you've always wanted to sell products, but don't want the hassle of shipping, product creation and customer service then Spreadshirt is for you!
How to Customize Your WordPress Theme With Ease
Setting up a WordPress site is pretty easy. All you do is load the theme of your choice. But what about changing font sizes, link colors, and making other site adjustments? People who are not programmers often have trouble with those edits. This course shows you how to use a browser trick to figure out what part of your site to edit AND how to make the edits very easily.
Create Web Images Easily With Photoshop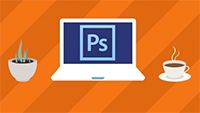 Photoshop is often seen as an advanced program for Photographers and Web designers. That's a myth. It's not just for those people.
If you're a blogger or site owner who just wants the freedom to make attractive images for your site and social media, you can also use the program for that. I also use it to create images and make money with programs like Spreadshirt. I also create infographics and drive lots of traffic from Pinterest.
If you don't have Photoshop, no worries! You can download a free, 30-day trial. Create your images during that time-period and save money. :-)
Create Animated Marketing Videos For Your Website
Captivate your audience and promote your products by creating short, but effective explainer videos using Powtoon. The days of spending tons of money for professional videos are over. You can create yours in minutes and I'll show you how.
Design Your eBook With PowerPoint
Forget those boring black and white ebooks people often create with word processing programs. Ad some pizazz to your ebooks and impress your visitors by using PowerPoint.
If you liked this, please share. Thanks!