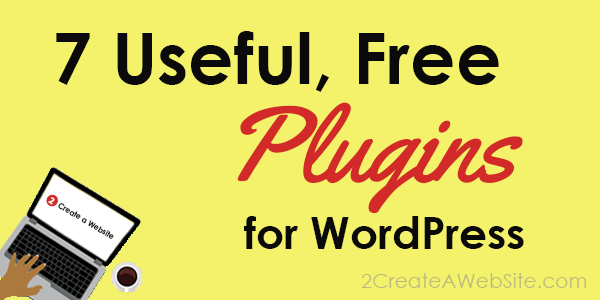 Plugins are the heart and soul of WordPress, and they are what make this content management system stand out from other builders and systems.
You can do anything from creating membership sites, forums, to setting up shopping carts and so much more.
Just be careful.
Too many plugins can hamper your page loading times, and they can also conflict with one another. So try not to install any more than 20.
I know that might seem tough once you discover what's out there. 🙂
Nevertheless, here are seven plugins every new WordPress user should start with.
Remember: You can easily install plugins by simply going to Plugins >> Add New from the WordPress dashboard. Just search for the plugin by name.
Akismet
It doesn't matter how small or unpopular your site is, the comment spam will find your comment section.
Akismet is the leading spam fighter. It's not perfect, but it does a pretty good job filtering nonsense comments to the trash so you never have to deal with them.
Contact Form 7
This is, without a doubt, the most popular contact form plugin for WordPress. I've been using it since I first installed WordPress in 2007, and it's quite customizable.
Eli's Related Posts
This will automatically display related content below your posts, which may encourage people to read more of your content.
You can display content as a simple list or use a tree view.
It does a good job of matching content based on the content, page title, etc.
Relevanssi
While the native WordPress search feature has improved a lot, it still has a long way to go.
Relevanssi will ensure that the relevant content comes up when people search your WordPress site.
Google XML Sitemaps
This plugin automatically creates a sitemap for the major search engines to read. It helps notify the search engines when you add or remove content.
WordFence
WordFence adds an extra layer of security for your site. Unfortunately WordPress is written with a language called PHP, which makes it vulnerable to exploits.
While your host should have a firewall installed, it doesn't hurt to add another level of protection.
Also, make sure you use really strong passwords (lowercase, uppercase, numbers and symbols) and NEVER use "admin" as your WordPress username.
The number one reason WordPress sites get hacked is a weak password.
So if you are one who habitually uses your kid's name with a number at the end, that's not secure enough.
SumoMe
Social media is now an integral part of the Internet experience, so adding social icons to your site is a must so users can share your content.
SumoMe offers a suite of tools, including social sharing icons.
They have a free version with branding, but their premium services start at $10/month.
I could go on and on with great plugins, and no doubt you'll discover plenty on your journey. However, these are great basics to help get you started.