Artisteer Overview
Home >> Web Design >> Artisteer Overview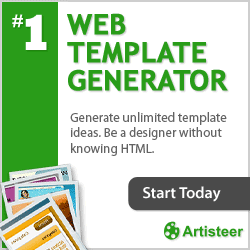 I have tried many editors and Web design tools in my many years as a Webmaster/affiliate marketer, and I have to say that nothing comes close to Artisteer.
Since this site attracts so many beginners with little or no web site development experience, it really is a fabulous option if you want to design your own site with ease.
Key Features
Numerous design templates and styling options
Creates a very current, professional template
Easily exports into multiple formats (WordPress or Blogger blog, static website, etc.)
Allows you to incorporate your own custom work (header images, background, etc.)
I was blown away by it to be honest. Most design editors are very limiting and leave you with minimal options, but Artisteer actually gives you a ton of different style and color choices for every element of your site (header, sidebar, menu, etc.)
The only drawback is that it produces a LOT of code. So if you want to edit the HTML, PHP or CSS code directly, it can be quite the task weeding through all the syntax.
Nevertheless, it's a great tool for beginners or people who want a fresh, new design for their site without having to know any programming.
Watch an Overview of Artisteer Below...
Download a free trial of Artisteer here.
Note: In order to upload your site after creating it with Artisteer, you will need a domain and web hosting. Learn more about starting your website here.
How to Upload Your Artisteer Template to the Web
If you used Artisteer to create a static HTML site, you'll need to upload that entire folder to your web host. Learn more about uploading/FTPing here.
If you are using WordPress, you need to upload your folder to your themes directory on your web host that is located at yoursite.com/wp-content/themes/.
Now when you login to WordPress, you can go to Appearance >> Themes and activate the new theme.
Here's a video on how to create an actual WordPress theme with Artisteer.
Creating a Web Page From Scratch
If you want to learn how to build a static HTML website (not a blog) without using any software at all, you might want to check out this tutorial where I show you how to build a 2 column site.
If you have Notepad or any text editor on your computer, you can build your site for free and no software is needed. How cool is that?
If you liked this, please share. Thanks!