Strategies for Earning With Spreadshirt
Home >> Making Money >> Making Money Online With Spreadshirt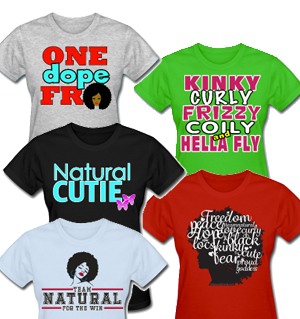 I love the Internet! There are so many different ways to make money from a website and what is cool about Spreadshirt is it's a great option for entertainment sites or niches where they may be fewer affiliate programs, lower AdSense income, etc.
How it Works
Spreadshirt is a print on demand service that allows customers to create personalized merchandise (shirts, hats, mugs, buttons, mousepads, etc.)
They create the merchandise and ship the products. All you do is provide the images and setup your store -- which is free.
You might have a website dedicated to soccer moms but have a difficult time finding many affiliate programs or ways to earn money. You could create shirts with witty, cute and funny sayings about soccer moms and promote them to your audience.
Just go here, create an account, name your store and off you go.
Next step...
Time to create your images!
Creating Your Images for Spreadshirt
You can only use images that you have rights to use. So that means you cannot just go to Google Images to grab an image and use it for your store. That's illegal.
Same goes for free stock photo sites. You can use their images for your web pages and online promotions, but you cannot resell their images unless you buy an extended license -- which can run anywhere between $100 and $300 per image.
So you either have to create the images yourself in a program like GIMP or Photoshop, or hire someone to create them for you.
I have a Photoshop course that breaks down the program so it's easy for anyone to learn. There's one video in the course dedicated to creating simple text and shape images for a site like Spreadshirt. I create some of my images in Spreadshirt with this technique and for more complex designs, I outsource and buy extended licenses from stock photo sites. (Don't have Photoshop? You can get it for free for 30 days from Adobe's site. Download the free trial and create as many images as you can.)
If you don't want to learn how to create images, you can actually use existing images in the Spreadshirt Marketplace.
The catch is part of your price will include the commission for the image creator. So your shirt prices may be higher than you'd want them to be.
It's really best to create your own images so you don't have to share your commissions with other designers.
"How Much Can I Earn?"
There are no limits to what you can earn. It's all about creating images that appeal to a certain audience and getting your merchandise in front of them.
My first payment was for $530 and my largest commission for one sale was $55 (shown below). I usually earn anywhere between $6 and $9 per shirt sold.
This is not magic or quick money. You definitely need a funnel to your store. For example, I have a natural hair website that drives traffic to my store. So that's how I get most of my sales. I wouldn't have been able to do as well with a standalone Spreadshirt store.
You could also use social media. In other words, promote your store by posting pictures of your shirts. Instagram and Twitter would be perfect for this kind of promo. Just keep in mind, you need a targeted audience.
So instead of just promoting your store on your personal Facebook page, it would be better to create a website on a specific topic, build an audience, create social media pages to connect with that audience and THEN you'll have an audience for your store.
If you haven't discovered this already, personal Facebook pages aren't usually the best places to get sales for your website. You may get a couple of courtesy orders from supportive friends and family members, but you need an audience who is actually searching and interested in your topic if you want to make serious money.
Below is a snapshot of a Spreadshirt commission I earned from one order made on December 10, 2014...
The customer above ordered 8 shirts so that means I earned roughly $7 per shirt.
You control how much you earn by setting your prices. Spreadshirt, of course, has a minimum price for the cost of the shirt/product and then you add your markup. The markup is your commission.
So if the base price of the shirt is $11 and you want to sell it for $24, you'll get $13 per sale for that shirt.
While it may be tempting to charge $30 per shirt so you make a lot per sale, you'll actually make much more charging less because you'll get more sales. Think about it. Most people aren't going to pay $30 for a shirt unless it has an amazing, unique design.
You also have to think about your audience demographics. For example, twenty-somethings would have less disposable income than a site targeted to lawyers. So for the latter group, you could get away with charging a bit more. You have to know your audience.
Want More Info?
I recorded a podcast with more details about Spreadshirt and strategies I use. You can listen and post questions about the program here on my blog.
If you'd like to learn how to earn passive income online like me, enroll in my 5-star rated course.
If you liked this, please share. Thanks!