Creating a Niche Website
Home >> Making Money >> Niche Website Help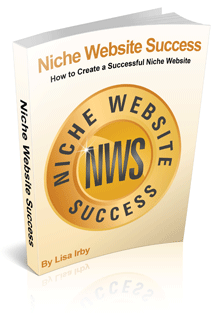 A niche website is a theme-based site that provides information to a very defined, targeted audience.
The idea is to choose one topic that you are passionate about, build a plethora of quality content, attract targeted visitors and then monetize the traffic with affiliate programs, AdSense, selling your own products, services, etc.
This is the way I've been earning a living online since 2006.
For years, my readers have been asking me to write a book that provides step by step instructions for how to create and promote a niche website.
I was against the idea at first because I felt I had enough information out here already. From my AdSense posts on my blog to my videos on YouTube, I figured there was enough out here to help the average person get started.
It wasn't until a close friend reminded me that my information was so scattered and that people would find value in having all the information in one concise book.
So that's exactly why Niche Website Success was born.
For the record, this book is not just a regurgitation of this website. It includes so much more in-depth information. Here are some of the topics...
Website building
Blog vs. static website
Keyword/Topic research with Google AdWords
Choosing the best domain name
Affiliate marketing conversion tips
Google AdSense tips
And so much more
You'll also receive a workbook that will help keep you on course and ensure you are focusing on the most important steps of your journey.
Who is Niche Website Success For?
NWS is for beginners who are looking for a very practical, transparent way of making money online. When I say "transparent" I mean there are no secrets or shady schemes involved here. It's just good ole fashioned hard work.
If you've been struggling with making money online with your content website, this book will be an eye-opener because it touches upon subjects often missed by people who try to earn money with a website.
If you have time to follow my steps and understand this is not a get-rich-quick scheme, then you are in the right place. However, if you're looking to make tons of money doing absolutely nothing, this book is not for you.
And don't worry if computers are not your thing or if you don't have a background in website development. I didn't either. As you'll see in the book, there are plenty of tools out here to make this process friendly for the non-techies.
Learn more about Niche Website Success here.
If you liked this, please share. Thanks!