Site Build It! Buy 1 Get 1 Free Holiday Promo
Home >> Making Money >> SBI! Holiday Promo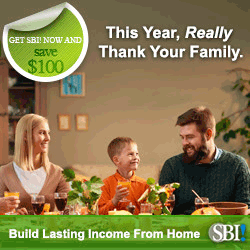 SiteSell has a fabulous Holiday special going on!
Right now you can buy one Site Build It! subscription and get a 2nd one absolutely free!
Now, you may be tempted to take this deal, but perhaps you're wondering how you'll manage two websites.
The good news is SiteSell gives you 9 months to activate the 2nd subscription. So you can use it for yourself or share/split the deal with a friend or family member.
I bet you've read all the great details about Site Build It! on this site, so now's the time to give it a test drive.
You've put off starting an online business long enough, so why not treat yourself to the gift that keeps on giving!
How Does SBI! Work?
If you are looking to create and make money with a niche website (a website that targets a specific group of people) then this system may be the ideal choice for you.
Here's how it works...
With your fee ($29/month or $299 yearly), you will receive a domain name (yoursite.com), website building tools, a video action guide, access to brainstorming help and more.
The training is broken up into 10 days, but you can work at your own pace. You start by brainstorming and narrowing down your topic with assistance from the video action guide or text version.
When you have chosen your niche, you will register your domain name and begin your site using their newly upgraded Block By Block Builder.
SBI! has a section in Site Central called Tips 'N Techniques that is flooded with tips and articles that will help you market your site. You will also have access to the forums for questions and advice along the way.
If you're the kind of person that wants hand-holding as you build your website, then this system is for you!
See a success story from November, 2012.
Click here to take advantage of this special deal and start your online business now!
If you liked this, please share. Thanks!