Getting Started With Social Media
Home >> Get Traffic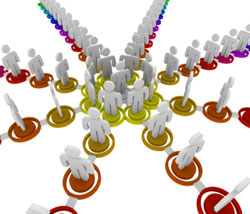 Social media is playing more and more of a role when it comes to building traffic online because so many people are using it.
In fact, today I would suggest you focus more on social media than obsessing over ranking high in Google.
Search engine optimization has gotten so incredibly complex that more and more people are discovering this is no longer a method you can rely on to help you build a successful, sustainable business.
You should definitely learn to optimize your website for the engines, but treat any traffic from Google as a bonus and learn to build your traffic foundation elsewhere.
Years ago, people looked at search as a great way to get a website off the ground and social media often took a backseat to search engine optimization.
Now we are seeing a shift. People are starting to see that social media is the best way to build an audience for your site and business.
Feeling Overwhelmed? Not Sure How to Begin?
The number one complaint I hear about social media is that people feel incredibly overwhelmed and don't know where or how to start.
You may be wondering if you need to join and master every social network or just start with one or two?
I personally think you should sign up for all the major networks like Google Plus, Twitter, Facebook and LinkedIn.
And if you have a site geared toward women, you may also want to consider Pinterest.
Even if you don't like Twitter, you better believe a good portion of your followers are there. So what you could do is create an account and at least use Twitter so you are accessible to your fans that use it and also share your new content there.
I don't use Twitter a lot myself but I get a LOT of questions there because many of my followers use it. So even though I'm not a huge fan of Twitter and don't spend loads of time there, I am still accessible because it's relevant to some of my audience.
I also use Twitterfeed to automatically announce my new blog posts.
So even if you do nothing but create an account and setup Hootsuite or another app to automatically share your new content, you at least have a presence for those in your audience who use it. So when someone reaches out to you on one of the platforms, you can reply and connect.
Remember, you may hate social media but in the world we live in today, that's where a LOT of your fans ultimately are, and they will want to keep up with you on the platforms they frequent.
You will probably discover that you will spend the majority of your time on one or two networks. But it never hurts to setup accounts with all the majors -- if nothing else to secure your site name.
Define Your Goals
If you don't carefully and strategically set goals with social media, you could end up spending loads of time doing things that aren't productive.
And unfortunately this is what a lot of people do with social media. You know the old saying, throw spaghetti on a wall to see if it sticks? Well, that's what most people do when they first join social media websites. In fact, that's what I did.
When I bought Lynn Terry's video course Social Marketing Results I realized just how poorly I managed my overall social media marketing in the early days.
I didn't have any goals. I just started using the platforms and hoped for the best. I wish I had this course when I first started because I would have been more efficient and done things a lot differently.
For example, in one of her videos she suggests that you start off by defining your objectives.
This sounds incredibly simplistic, and you may even think exercises like this are unnecessary.
But I guarantee that if you take the time to define objectives and do the basics that Lynn suggests in her course, it will help you with creating your overall social media strategy so you aren't blindly posting with no real agenda.
Whether you realize it or not, you are creating a brand for yourself and your business through social media, so these kinds of exercises help shape your overall strategy.
These are steps every new website owner should take before getting out on social media.
Getting Followers
If your website is new and has little traffic, getting followers may be a challenge at first. I would highly recommend following people who have sites related to yours. Reply to their tweets, posts, etc. and engage in conversations.
For example, say you have a site on cars. You can join popular Facebook pages related to your niche. Join in the discussion with other "fans"/members.
You can also change your FB profile to display your own Facebook page name instead of your real name. Update this in your Facebook Profile Settings.
That way when people click on your "name" they will go to your FB page.
Just remember. You have to give to get. Social networking is not just about you blasting ads and links to your own site. The words "social" and "networking" both imply multiple parties are involved, and that is true.
Take the time to comment on other people's work or posts. Write a response blog post to a controversial article someone wrote and tweet it to them.
If the person also has a FB page you can "Like" the page then cross link your pages together by typing @TheNameOfTheirPage when you post it to your FB page.
So let's say you write a blog post responding to an article another car blogger wrote about. You can post the following on your Facebook page...
Here's my witty response to @NameOfFaceBookPage 's article about Car Emissions.
Now the link will also be posted on their page.
Note: Be responsible about the above strategy. If the article is worthless and clearly just an attempt to get a link back to your page, the person may remove it.
Consider Downloading Social Marketing Results
I've already mentioned above that I wish I had a course like this when I first started with social media.
I also want you to know that I am affiliate for Lynn's course so if you buy it, I earn a commission.
Having said that, I will be very honest what I liked and what I thought needed improving.
Her course is best for...
People who are brand new to social media marketing and need to know how to start, or
People who are on social media but are not getting good results
You will receive...
A main training video
A PDF version of the video training for those who prefer to read
Checklists that correspond to the videos/PDF
Access to a private Facebook group for questions
Bonus training videos (there were 5 at the time I purchased.)
For example, one video was completely dedicated to Facebook marketing. I was most interested in this one because my Facebook page is my favorite social platform.
Also because you will get access to her membership site, you will receive updated bonus videos as she creates them.
The course was jam packed with information for people who need actionable advice on growing their social media following.
The one thing you should know is the videos in the course are from previously recorded webinars, so there are pauses while Lynn answers technical questions about the webinar.
This wasn't a big deal to me, but it would have been nice if she had created separate videos for the course so they would flow smoothly without the pauses to answer questions about the webinar technology.
The videos are also hosted on Adobe Connect so it took a few seconds for each one to load when I launched them. Once they did load, I had no problem watching.
I must say, this is the only course I know of that offers so much step-by-step, actionable information (with exercises) on how to get started and define your social media strategy. It's also a bonus that it's a video course because it makes it easier to digest the info.
For years, I've never recommended a training course or guide on social media because I personally did not know of anything I was comfortable suggesting here on my site.
Again, this course is really best for beginners or people struggling to get results from social media. And if you are someone who likes actionable, step-by-step guidance you'll appreciate the way everything is organized.
Beginners will love this, but if you are an intermediate user and know the basics of social media, it's probably not the course for you.
You can learn more about Social Marketing Results here.
If you liked this, please share. Thanks!